The only good thing about Ramaphosa's cabinet, according to Malema, is the 50-50 representation of women and men.
Economic Freedom Fighters leader Julius Malema is not impressed with President Cyril Ramaphosa's cabinet for a number of reasons, including that it is still too bloated.
Malema said Ramaphosa's cabinet was still oversized despite shrinking from 36 ministries to 28, and that it still had "Bosasa people" appointed to serve South Africans. The EFF leader, however, explained why, in his opinion, Ramaphosa could not reduce his cabinet to South Africans' expectations.
He said: "There was no way he was going to reduce cabinet because he wants to balance factions. He must appease everyone so that there is no war declared against him."
Malema further criticised the appointment of Public Enterprises Minister Pravin Gordhan and likened the move to showing a middle finger to the public protector's office.
"To appoint Pravin was to show a middle finger to the chapter 9 institution, to the constitution and to the democracy. All those who support the constitution and love democracy must stand against the appointment of Pravin," he said.
His party also released a statement criticising the move.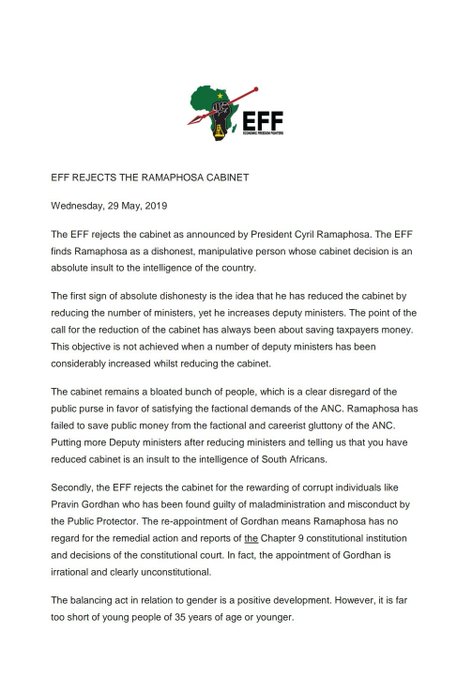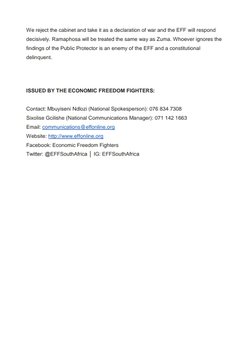 Economic Freedom Fighters✔@EFFSouthAfrica
EFF Rejects The Ramaphosa Cabinet1,94110:28 PM – May 29, 20191,646 people are talking about thisTwitter Ads info and privacy
Another change that failed to impress the EFF was the creation of the employment and labour ministry, set to be led by Thulas Nxesi, with Boitumelo Moloi as his deputy.
This change was "stupid", according to Malema, and was used to create an impression that Ramaphosa was doing something about the high rate of unemployment in the country.
"It was stupid, what is the difference between employment and labour? It's one and the same thing. He's trying to create an impression that he's doing something about the high level of unemployment in South Africa."
He, however, lauded the appointment of Ronald Lamola and GOOD party leader Patricia de Lille and wished them well. He was also impressed with the 50-50 representation of men and women in cabinet.
"The only good thing about the new cabinet is that we have 50-50 men and women, but the whole achievement is undermined by the fact that the cabinet remains bloated and it is going to cost South Africans a lot of money.
"We hope she [Patricia de Lille] will not be contaminated by corrupt activities in the party, we hope Ronald Lamola will continue to be the young person that we know him for and that he will not be corrupted and destroyed at an early age, because he's serving with hyenas, and they are very quick to destroy people.
"We wish them well and all the progressive forces who found themselves in that compromised cabinet. we wish them well, we wish them strength, but South Africans should not be fooled by that bloated cabinet which still has crooks who will eat our money." The Citizen